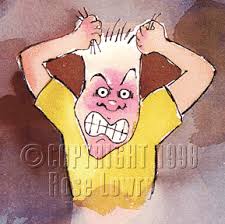 An incident happened today that
really
pissed me off.
Nothing winds me up more (well at least not today anyway) than two or more airheads having a pleasant conversation whilst standing in the door you want to walk through. I mean, they have all the fucking corridor to chat about the wonderful holidays they experienced, yet they pick the busiest portal to idly chit chat.
I have had a pretty grim day. They were in the wrong place at the wrong time. Easy prey.
Without batting an eyelid, I calmy told them to get out of the fucking way as I promptly parted them. The look of pained surprise was priceless.
Don't get me wrong. I am usually calmness personified. But every once in a while, something presses THAT button. This hit it square on.